I finally did it. I took the initiative and got it done. I put aside all other things and made it happen. What is "it?"
A new pincushion.  I know, I'm weird. Here is my poor old one:
Such a sad sight isn't it? I had finally had enough of trying not to let the stuffing spill out everywhere as I worked. So I did a little search on my favorite little site that rhymes with "interest," and voila, I found the perfect replacement. The tutorial was great so I am not going to rewrite it all here; head over to Sew Mama Sew and check out the free tutorial! But, before you head on over, here are the pictures of my finished pincushion.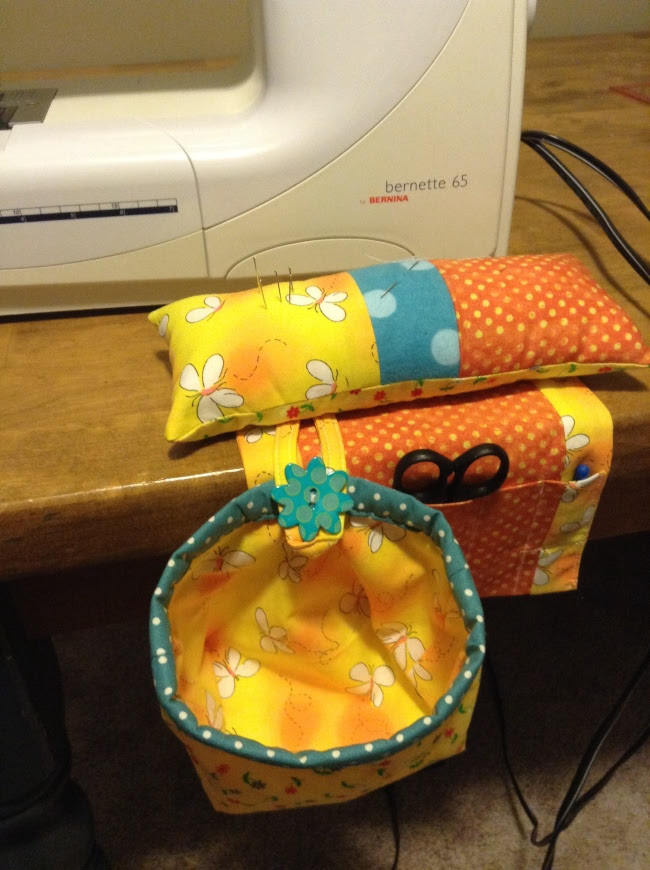 Not only is it a pincushion, complete with a flannel strip in the middle for needles so you don't lose them, but it has a "snipped threads" detachable fabric bag and a pocket for scissors and seam rippers etc. It is also weighted so that you can set it on the side of a table (or arm of a chair) and it won't fall off – such a genius idea!
I love how bright and cheery it is!
While I was at it, I decided to make one for a friend who needed some cheering up:
While I liked the original tutorial, I did make a few changes. First off, I used sand for the weight instead of rice as I wanted the option of sticking the whole thing in the washer if needed. I also made some slight changes in the size since I was using scraps from my stash. Otherwise, the tutorial was great and very easy to follow. Make sure and post pics below if you try your hand at it!